Did you know that you can win prizes, gifts & even PPV tickets to WWE Events & more in our poker room? Join Here
WrestleMania Press Conference
Stephanie McMahon welcomed everyone. When the crowd chanted "Hogan sucks", she said that Hulk "wouldn't be part of this year's Wrestlemania, that's for sure." She then introduced Triple H. Hunter kissed her and then announced he would be inducting his best friend Shawn Michaels into the WWE Hall of Fame this weekend. Then he cut a promo on The Undertaker. The Miz was next, and he said he would retain his belt because he's awesome.
John Cena then cut a promo while fans drowned him out with chants for The Rock as well as "same old sh**." Snooki then talked about Lay-Cool and said the name of her team was the "Brunette Mafia" (Snooki was booed by fans). The Rock then spoke as everyone chanted "one more match" and "fruity pebbles". Snooki asked if she could get a photo with Rock and Cena together. They take the photo then engage in a stare down. Fans waiting to get into the WrestleMania Press Conference got a big surprise while in line. The Rock drove up and pulled over in his truck, leaned his head out the window and told them he would be "bringing it" at WrestleMania and would see them soon. Here are some videos of the event:
Part 1

Part 2

Part 3

Part 4

Part 5

Part 6

Part 7

Part 8


WWE Wrestlemania Art Auction Photos
WrestleMania Week kicked off in style Wednesday night with WrestleMania Art, an exhibit featuring the works of WWE Superstars and Divas benefiting Children's Healthcare of Atlanta. Here are some of the photos (photos by WWE)
The Rock Confirms He Will Wrestle
Dwayne "The Rock" Johnson says he's "very open" to wrestling again after returning to WWE last month. The host of WrestleMania XXVII appeared on Piers Morgan Tonight tonight on CNN. Piers Morgan asked Johnson whether he plans on wrestling again.
"I'm open to it," Johnson said.
Morgan asked, "You are?"
"Very open to it. Sure. I've always been open to it," Johnson replied.
"When I left wrestling seven years ago, at that time, two things happened. I accomplished everything I wanted to accomplish in wrestling and I also wanted to become a good actor. In order to do that, I felt, I needed to concentrate solely and commit myself to acting."
WWE and The Rock are very happy with the current Cena-Miz-Rock storyline. The Rock originally agreed to host WrestleMania 27 back in January but he's so genuinely happy about being back that he's said to be more than willing to get back in the ring for a few more matches. WWE is being very secretive about any plans for more matches. Most people within WWE expect The Rock to wrestle both John Cena and The Miz at some point. He's also expected to stick around on a part-time basis following WrestleMania 27. The approximate 30 minute interview, which was taped two days earlier, featured Johnson reflecting his life, career and future aspirations.
Another Rock note, he tweeted Thursday afternoon: "John Cena created his own hell…and The Rock is the demon who crawled up out of it…" in 3 days, the demon is unleashed.. TEAM BRING IT

Here is some video of the rock on CNN:

The Rocks MTV Interview
The Rock recently hinted that he may get involved physically at WrestleMania 27 this Sunday night. Speaking with MTV News, he said, "I'm going to take my fist and lay it across somebody's lips and take my boot — which is a size 14, so it's a big boot — and stick it straight up somebody's ass." When asked who he might get phyiscal with he said, "Like with any show, like with any movie, you want to make sure the final five, 10 minutes of the show are worth every penny."
Bret Hart talks about Wrestlemania XXVII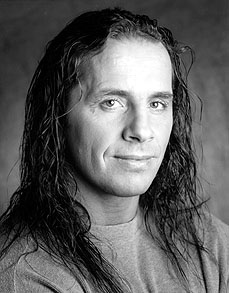 Bret Hart has provided his thoughts on WrestleMania XXVII on his website. Here is some of what he wrote: "As for the actual line-up, it's been a slow build for much of the card, but for the past few weeks the promos and backstage situations seemed to be rather plain and flat, totally predictable. The Undertaker and Triple H segment with Shawn Michaels played out exactly like I expected, the usual smoke blowing up the rectum stuff, more grunts and then a staring contest, thank God Shawn was there just to add something, anything to it. I suppose there isn't much else these two legends can do as far as buildup goes but it came across to me as having little imagination, the match itself should be one of the better match ups because Taker brings it all the way for Wrestlemania and Triple H can turn it up when he wants to. Triple H has had some hard fought battles over the years, but I don't know if he's ever had his chance to literally blow them away at Wrestlemania but this might be his best chance. Taker, in my opinion, is truly one of the all-time best and time and time again, he has delivered the best match on the show so I expect a good solid match, old school but intense. It could steal the show."
CM Punk & Steve Austin Battle It Out On Twitter


Nexus leader CM Punk and WWE Hall of Famer "Stone Cold" Steve Austin had a strong exchange of words on Twitter on Wednesday, with Punk challenging Austin to a fight. It all started when Paul Heyman's site Heyman Hustle site posted a fantasy matchup between Austin and Punk as part of their promotion of the WWE All Stars video game.
In a followup to the story, Punk tweeted the following:
"I like how THQ acts like they don't know what would happen if @steveaustinBSR and I were to lock horns. Everybody knows. SXE > Beer."
Punk followed up with: GTS > stunner.
Within 3 minutes, Punk's tweet earned over a hundred re-tweets. It was trending throughout North America within two hours. It trended globally this morning.


Austin replied to punk – and says he's got a can a whoop ass with Punk's name on it:
@CMPunk alright Punk…you just crossed the line…i'll be seeing your ass in Atlanta.
@CMPunk Alright son…I'm about to get off this treadmill and RUN to Atlanta..bringing some extra cans of Whoop Ass!!! YOU HAVE BEEN WARNED!
@CMPunk What are you doing son, asking for advice/lessons etc.? I'll give your pierced lipped ass a couple lessons when I see you. Out.

Steve Austin Returns To The Wrestling Ring
ESPN.com recently interviewed Steve Austin. Here is an except where Austin discusses a possible return… "I'll tell you what, sometimes you do, but it's just like an itch that you scratch and it goes away. We had that ring at Tough Enough, and it's the same WWE ring they use every week, and I got the chance to bounce around and take some bumps from one of the kids in the contest and gave him a few bumps. Could I still do it? Damn right I could. It may not be quite as good as I used to, but I got it out of my system. I hope people enjoy Tough Enough because I had so much fun doing it, but that's about as close as I want to be to a business that I love."

WWE Hall Of Fame coming to Florida?

According to HOF inductee Road Warrior Animal, WWE is looking to Tampa, Fl as a possible location for a physical hall of fame. Tampa is currently the home of Florida Championship Wrestling, WWE's developmental organization. Animal told The Score in Canada: "WWE is looking at a big building in Tampa. I'm gonna donate some of my gear there – maybe some of my spiked-shoulder pads will go in the Hall. They're getting stuff from everybody. And it's gonna be an attraction – some place where fans can go. It's gonna be like the Pro Football Hall of Fame." He also talked about going in himself. He said, "Well you know how it is. Jealousy is the greatest equalizer (in our business) sometimes. Guys who don't get invited to it…it's just jealousy. You look at the path people take in this business, and I knew it was going to be sooner-or-later."
30 Children Ready to Enjoy Star-Studded Wishes with WWE®, Make-A-Wish Foundation® at WrestleMania® XXVII in Atlanta
PHOENIX — WrestleMania XXVII, WWE's annual pop culture extravaganza, will once again be the centerpiece of a huge wish weekend for the Make-A-Wish Foundation and 30 kids with life-threatening medical conditions. For the fourth year in the row, WWE and the Make-A-Wish Foundation are granting children's wishes to attend WrestleMania weekend, April 1-3 in Atlanta. WWE has planned a full list of wish activities for the children, who are traveling from 18 U.S. states, Canada and Australia. In addition to the excitement of attending WrestleMania at the Georgia Dome on April 3, the wish kids will enjoy exclusive opportunities to meet WWE Superstars and Divas, along with other celebrities, at these events:
April 1 – a private autograph session with WWE Superstars and Divas
April 2 – a pizza party hosted by WWE Superstar and Make-A-Wish® Wish Ambassador John Cena® at the Georgia Aquarium
April 3 – a special lunch party before WrestleMania XXVII at the Opera Atlanta Events Center & Nightclub
The Georgia Aquarium and the Opera Atlanta Events Center & Nightclub are donating event space and resources to make the events possible for the 30 wish kids and their families. Lucks Food Decorating Company is donating pizza for the Saturday event featuring edible Pizza Prints™ designs of WWE Superstars. "It's fitting that the WWE and Make-A-Wish Foundation's biggest wish-granting celebration happens each year at WrestleMania," said Sue Aitchison, WWE's Director, Community Relations. "This weekend will be full of surprises and joy for the wish kids and will undoubtedly help the families spend much-needed time together away from hospitals and medical treatments." At the April 2 event, Make-A-Wish Foundation of America President and Chief Executive Officer David Williams will honor Cena for granting his 200th wish in December 2010. Cena is one of only four celebrities, along with NASCAR drivers Jeff Gordon and Dale Earnhardt Jr. and former WWE Superstar Hulk Hogan, to reach the milestone.
"The Make-A-Wish Foundation is so much better for knowing WWE Superstar John Cena," Williams said. "He is genuinely connected to our mission, and the time John spends with a wish kid changes them both. They leave each other better than before – happier, more optimistic, filled with memories that inspire them during tough times." For 27 years, WWE has been one of the Make-A-Wish Foundation's most dedicated wish granters, fulfilling hundreds of children's wishes to meet its Superstars and Divas and attend major events such as WrestleMania. The Make-A-Wish Foundation grants the wishes of children with life-threatening medical conditions to enrich the human experience with hope, strength and joy. Founded in 1980 when a group of caring volunteers helped a young boy fulfill his dream of becoming a police officer, the Foundation is one of the world's leading children's charities, with 64 chapters in the United States and its territories. With the help of generous donors and nearly 25,000 volunteers, the Make-A-Wish Foundation grants a wish every 40 minutes and has granted more than 200,000 wishes in the United States since its inception. For more information about the Make-A-Wish Foundation, visit wish.org and discover how you can share the power of a wish®.
Trademarks: All WWE programming, talent names, images, likenesses, slogans, wrestling moves, trademarks, logos and copyrights are the exclusive property of WWE and its subsidiaries. All other trademarks, logos and copyrights are the property of their respective owners.
Trish Stratus Interview
On getting the call to do Tough Enough: "I would say it was about the beginning of February I got this call, 'Hey, we got this new show Tough Enough which you might have heard about. We want you to be the female trainer on the show' and of course I was just absolutely honored to be asked. [...] At first they told me, 'We can't really tell you the details on who's going to be involved yet'. I was like, 'Hmm, well, last time I accepted a show and I didn't know who was involved, I ended up working with Erik Estrada and Latoya Jackson, so I'd like to know please'. [Laughs] They told me 'Stone Cold' Steve Austin would be the host and I said, 'I'm in'. And then Bill DeMott and Booker T [became involved] as well, so I was like 'Oh absolutely'."
One of the things that made her want to come back & do the storyline going into WrestleMania: "The opportunity came up to work with Lay-Cool which I'm so excited about. I mean they've done such great work. People love to hate them. As a fan, I've sat back and I've watched — especially Layla — [I've] watched them grow into these great workers. They've really come along, especially when you think about where both of their backgrounds are. They've put in the work to develop their characters. [...] I was a big fan of their work so to come back and work with them was a neat little opportunity."
What it's like working with Snooki: "She's so sweet. The first time I met her — the first Raw — she was just really excited to be there and really open minded and I love that when people come from other worlds and are just like, 'Okay, what do you want me to do?'. Sometimes you get that resistance like, 'Hmm, I don't know if I could do that…' and she was just totally into it."
Bruno Sammartino Talks About WWE Hall Of Fame
Wrestling legend Bruno Sammartino spoke to Atlanta's Creative Loafing publication this week and was asked once again why he will not accept a WWE invitation to join the Hall of Fame. "First of all, when they started all this garbage with the nudity and these girls always having accidents where a bra will fall off or whatever, then the vulgarity and the Kiss My Butt Club, and the profanity that they use and stuff like that, I find all that appalling and I was very, very outspoken. Then the drug use, of course, was the most appalling for me. So what kind of a person would I be to accept that ridiculous Hall of Fame after being as outspoken as I was? I think it would be very hypocritical on my part and I would never accept that because I don't believe in it."
He did however, leave a faint possibility of him working with WWE again as part of the Hall of Fame. "I guess one should never say never, but I would have to see an awful lot of change before I would even think of it. A lot more than what I'm seeing now." Considering how far WWE has come toning down their product as part of the current "PG era," one has to wonder how much more change Sammartino is looking for before he's willing to consider entering the Hall of Fame.
The Miz on Good Day Atlanta


The Miz Previews Wrestlemania: MyFoxATLANTA.com
Other News & Tidbits
– Snooki stated that "It kind of came naturally to me. I did gymnastics for eight years, and I have been cheerleading since middle school … I am going to rehearse this weekend for Mania and will incorporate my gymnastics skills. When they gave me this opportunity, I started watching it again to see what I would do and what's happening,. And I really enjoyed it."
– The Rock was asked on Twitter yesterday if he got fined for swearing. He responded: "Why would I get fined by WWE? I never said bitches or ass, I said sumbitches and candy ass, big difference."
–Tammy Sytch (a/k/a Sunny) stated during an interview on SIRIUS Satellite Radio that her WWE Hall of Fame inductor would be a surprise. When asked if it was male or female, the WWE public relations representative who accompanied her would not allow her to answer the question. Current plans call for the WWE Divas to together induct Sunny into the Hall of Fame. Sunny is being branded as "The Original Diva."
– The Anaheim Angels are giving away wrestling masks this season.
– Mark Henry threw out the first pitch at the Atlanta Braves game. Eve and Melina said "play ball" together to open the game and John Morrison was a special co-captain.
– Marty Jannetty was asked if he would attend the Shawn Michaels WWE Hall of Fame induction. He responded, "I want to be there but the cab ride from where I am is over 22 dollars and 23 cents, give or stank a dolla."
Did you know that you can win prizes, gifts & even PPV tickets to WWE Events & more in our poker room? Join Here